Supporting Student Growth During COVID
June 12, 2020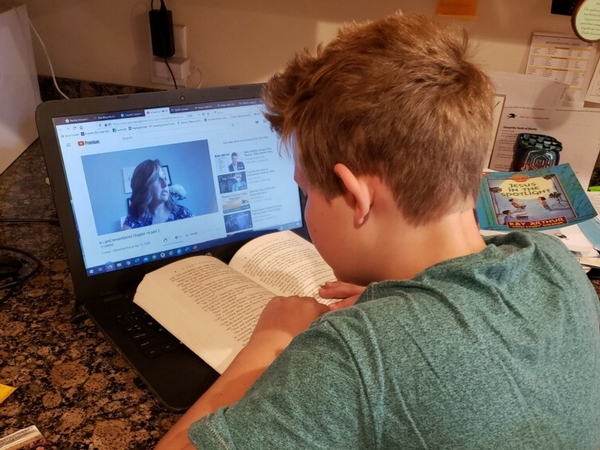 During the recent COVID pandemic, CCS is privileged to be a member of the NWEA assessment community. Our use of NWEA MAP® Growth™ tests in the fall and spring enable us to better understand and support the educational needs of our students.
As NWEA continues to support us, we are sharing some insights on how we are still supporting our students educational goals this summer and into the fall.
Here are 7 Things We Are Working On Right Now to Support Student Growth and Achievement:
1. Know your students before next year starts
Many students and families are experiencing the trauma of unemployment, loss of a loved one to COVID-19, stress from overwork and worry, or increased discord or abuse at home. Even for students lucky enough to avoid major trauma, these uncertain times are not likely to be forgotten easily. All these things may impact students' ability to learn now and in the fall.
Authentic, supportive relationships between educators and students provide a strong foundation for teaching and learning. Attending to students' social and emotional needs is equally as important right now as attending to their content area learning needs.
Schools with online platforms and connectivity should encourage teachers to take time now—and in the summer—to use those platforms to connect with their current and future students and ask how things are going with their families. Knowing what students are up against now will put you in a better position to respond to the social and emotional needs of students without delay once the new school year begins.
2. Identify now what standards and curriculum are interrupted by school closure
While an interim assessment will give a good estimate of how much learning was interrupted over the spring and summer, it's not as useful for telling you what curriculum students are likely to have missed. What content would all students have been exposed to if schools had not closed? Now is the time to address this important question.
Review each grade level's scope and sequence from the time your school closed to prioritize the key standards, concepts, and skills to formatively assess and plan for in the coming year. This will provide the basis for a framework to address unfinished learning needs.
3. Make a plan to integrate priority standards and curriculum into next year's scope and sequence
Dialing the time machine back to March 2020 and restarting instruction from there is not the answer. Educators must strive to bridge gaps for students in missed content from the previous school year while teaching grade-level standards in a way that best meets students where they are. Make plans now to determine how you'll integrate important content from prior grades into the scope and sequence for the coming school year for those students who need it and how you'll continue to advance learning for students who are ready for grade-level instruction and beyond.
4. Assess priority standards as soon as the year starts
Have formative or teacher-developed assessments ready to go that are designed to assess the key skills and concepts from the prior grade that students are likely to have missed exposure to due to interrupted learning. Classroom formative assessment is a driver for teacher clarity of instruction and student agency in learning. Paired with prioritization of standards and adjustments to scope and sequence, the formative assessment cycle will help educators and students to partner in teaching and learning with more precision about where they need to focus their energies for support and enrichment.
5. Collaborate with colleagues to develop creative schedules that support flexible, small-group instruction
It is highly likely assessments will reveal widely variable student learning needs. Having a plan for addressing differentiated instruction in a strategic way will allow educators to maximize the targeted support students need. Consider building a daily schedule that explicitly carves out a timeframe for teachers to address student learning needs. Teacher teams might consider using interim and diagnostic data to create flexible groups of students with similar learning needs that can meet for targeted instruction.
6. If you are an NWEA partner, look to MAP Growth for help
This is not a time for "solution-itis," a knee-jerk reaction to solving a problem by adopting and implementing a bevy of new things. When things are chaotic, teachers, students, and families need as much stability as possible to be able to respond creatively. Teachers are likely to be most effective with the tools and strategies that are already familiar.
The Learning Continuum linked to MAP® Growth™ can help you find key concepts and skills that students are ready to learn based on their instructional goal area RIT scores. In addition, educators can use the Learning Continuum to connect student RIT scores to the likely missed skills and concepts from prior grades. Armed with this information, educators can give special emphasis to those skills for their students after fall testing, using the unfinished learning needs of students to scaffold instruction to support exposure to grade-level standards and curriculum.
7. Reflect on and lean into what is already working
Rapid changes in daily life and learning environments have been inevitable throughout COVID-19, causing seismic shifts in teaching and learning for teachers, students, and families alike. While instructional resources and products abound, now is the time for districts and schools to hold steady, take inventory, and reflect on what has worked, both across the school year and now.
Find and lean into the successes and assets already in place. Teachers, students, and families need an anchor, and holding firm on using the resources, products, and materials that are tried and true will provide just that: a link to the familiar, the previous normal. All educational stakeholders, especially our students, need that now more than ever.
Original post written by Brooke Mabry and John Cronin, NWEA
For more information, go to: www.nwea.org
If you have questions for the CCS staff, reach out to Nora Huggins, Principal because we'd love to talk with you about our plans for Fall 2020.