Superior Academics in a Smaller School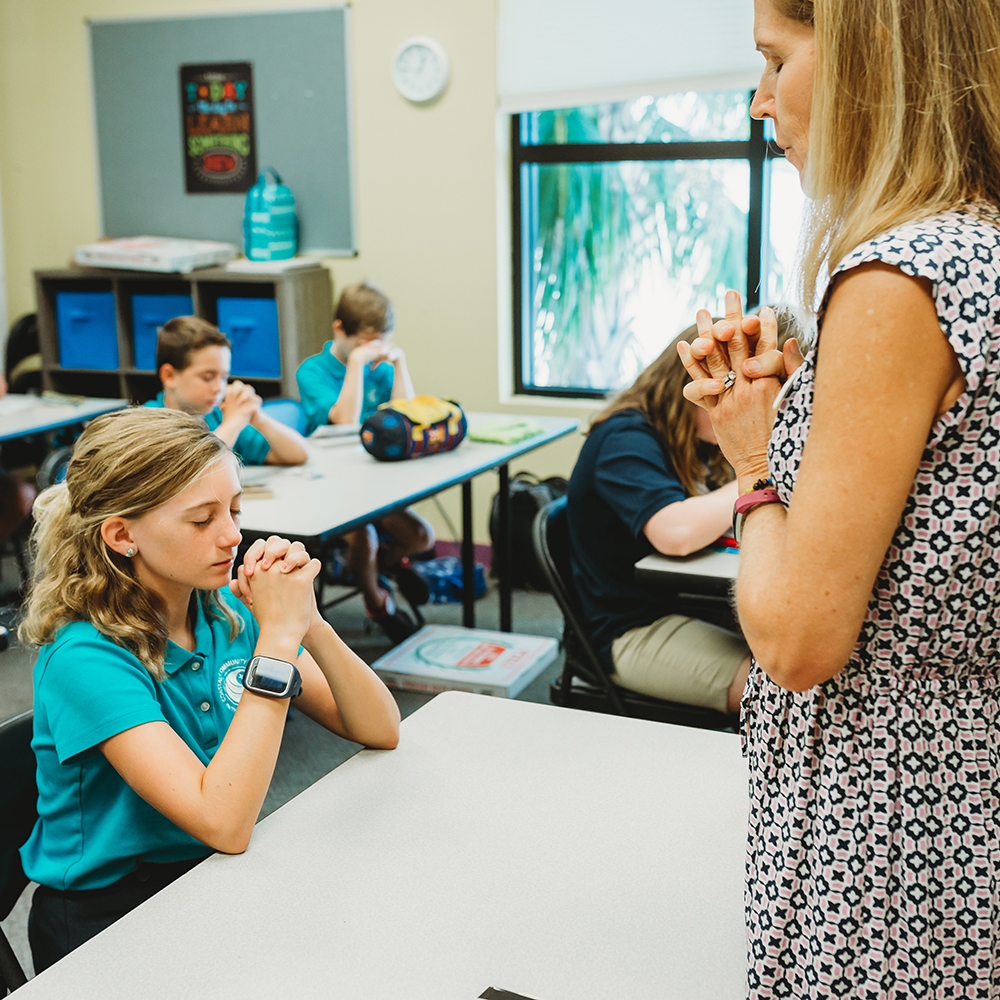 Coastal Community School is a private, Christian, hybrid school accredited with Christian Schools International and Christian Schools of Florida. ​Accreditation ensures accountability for high standard academics, a spiritually-focused environment and operational integrity. Coastal Community School is a five-day school program with instruction at school and at home.
Our academic and enrichment program for VPK through 8th grade is three full days per week (Tuesday, Wednesday, & Thursday) on campus. On instructional days at home, parents facilitate learning with lesson plans that are provided by a highly-qualified classroom teacher. Our community model combines the best attributes of traditional schooling with the best attributes of homeschooling and integrates them into one model.
The result is quality, cost-effective, college-preparatory education that gives parents more time for imparting their own faith and values to their children. In partnership with one another, parents and the school work together toward a mutual goal: to produce wholesome, competent, and virtuous followers of Christ who will change the world in their generation.
Courses & Descriptions
Core Academic Classes Offered Kindergarten through 8th grade
Reading/Language Arts: All About Reading is offered at an accelerated pace. Language Arts includes spelling, grammar, writing, and reading
Saxon Math: Saxon Math curriculum is offered at an accelerated pace (ex. 2nd grade uses Saxon Math 3) Middle school offers Algebra I for high school credit in 8th grade
Science: BJU science offered for all grade levels
History: American history, world history, Florida history and civics
Language: Latin is offered in 4th-7th grade Middle school offers Spanish I for high school credit in 8th grade
Enrichment Classes Offered
Elementary: Music, Art, PE, Marine Science, Little Passports, French, Etiquette, Brain Builders
Middle School: Art, PE, Geography, STEM, Strategies
Our families love Coastal Community School:
"I love doing school at home the way Coastal does it. This means you can do school the way that works best for your family. My children get to work on skills they need, and is geared to them, not an entire class." — Meridith & Kris Sanford, Parents
" The community model at Coastal is something that we prayed for as the first of our four children entered school. It's exactly what my family needs and we are blessed that God has brought this unique educational option to our community. " — Andrea & Alex Hart, Parents
"The CCS staff offered consistent grace and love at a time that my family desperately needed it. I am so grateful for the school and the community I have found in Coastal. They really ARE the hands and feet of Jesus!" — Heather Warrington, Parent
"This difference for our family is the faith component. We are thankful for this choice." — Shavaun & Jim Skaggs, Parents
"The biggest blessing for our family has been finding a loving and caring like minded community who have embraced us from day one! CCS is and will always be a very special part of our lives!" — Jesse & Angie Northway, Parents